The crowds, the booths, the noise – I just couldn't take anymore.  And if you think I'm talking about the 127 Art Fairs that sprung up in New York this week, you'd be almost right.  The truth is, I was art blind before the fairs opened.  I was saturated.  I couldn't stand to look at any more anything.  I couldn't have one more conversation about process versus content.  So although I should have gone to at least 113 of them, I didn't.
Where DID I go?  Coffee Fest!  The coffee trade show at the Javits Convention Center.  Numbered booths, crowded aisles, overstimulation of my already overtired eyes; it might as well have been an art fair.  Or a gift show.  Or the GLBT convention with which it was sharing space (at least they had blow-up palm trees and colorful balloons).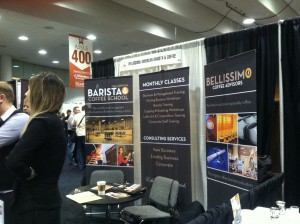 Trade shows are trade shows, I've decided.  And art shows are just as full of hucksterism and gritty commercialism as any other trade show.  There is no pretense that they are doing anything other than selling as much of their interchangeable inventory as possible.  No wonder the galleries don't want the artists to come.
But back to Coffee Fest.  My sister Jennifer Cook owns a wonderful independent coffee shop in Katonah, NY (NoKa Joe's – go visit.  She has a bookstore upstairs!).  And she needed to see what was new in coffee and coffee accessories, so I went along with her and her photographer/beekeeper friend Karen Sabath.
AND happened to arrive just in time for the finals of the Latte Art World Championship.  Proof that there is no escaping art.  The barristas impressively produced their championship cups in front of a live audience (try THAT Art Fairs!) and then we all got to sample the products (ditto!).  Coffee, tea, protein shakes, smoothies, scones, muffins, shortbreads, biscotti, and, oddly, lots and lots of oatmeal.
On the way out of the Javits Center, just in case you weren't already buzzed from the caffeine and the sugar, there was a Starbucks doing bang-up business.  It was a perfect end to spring break.